When a well-used CNC wire bending machine became the source of mounting maintenance costs the end user turned to KMT Machine Tools for a frame-up rebuild. The aim was to update what was originally a quality machine to modern performance and reliability standards at a much lower cost than a replacement.
As experts in rebuilding and refurbishing machine tools for original equipment manufacturers (OEMs), KMT was also able to deliver the repair on a lead time far shorter than the potential wait for a new replacement.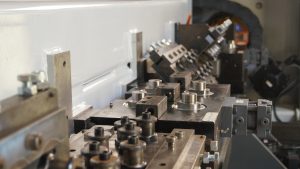 A detailed assessment of the machine established that it was at the end of its service life due to normal use. Most major mechanical components required rebuilding or replacing, while the control system was obsolete with no current manufacturer support. The machine frame itself was found to be in good order, so with the causes for failure clear, KMT was able to quote accurately for a complete refurbishment project, with the confidence that the result would be the return of a quality, reliable machine.
Constant use had taken a toll on the machine's wire feed mechanism, with the wheels and shafts comprising the two straightening rolls in urgent need of replacement. KMT
refreshed the system with brand new components, bringing this integral part of the machine up to its peak efficiency. The slew rings were also found to be in a poor state of repair after 20 years of constant service, so KMT sourced high quality replacements to specification.
Replacement of the outdated control system was another priority. Therefore, KMT installed a 4 axis Omron CNC system, so the machine could reach the latest electronic control standards. The replacement also served to simplify the wiring process, ensuring that maintenance conducted in future could be carried with ease and in a reduced time frame.
Adrian Degg, Engineering Director at KMT Machine Tools commented on the project: 'This is typical of the kind of rebuild projects we take on at KMT. The customer was losing money due to the high levels of maintenance needed to keep the machine operational, so we were called in to offer a solution. Generally, we build new machines, or update machines that are well built but worn, so with some expert attention they can be brought right up to current mechanical and electrical standards.'
An equivalent new CNC wire bending machine would typically cost £350,000 with an expected 4 month wait before delivery. However, through a policy of 'rebuild and refurbish', KMT can offer the same solution for a fraction of the cost, with a lead time of generally between 8-10 weeks.